8000 Puffs Smooth Vapes Features:
Puffs:

8000 puffs

Coil Type:

Mesh coil

Tank:

18ML

Rechargeable

Port:

Type-C

Flavor:

Multi flavors

Airflow:

Adjustable
MON M8 8000 PUFFS  is a disposable vape device with airflow control and is rechargeable. It contains 18ml  and vape up to 8000 puffs. There are many fresh fruit flavors for you to choose from. The special mesh coil formula makes the taste more dense, and plus it comes with a rechargeable Type-C port at the bottom of the device, which guarantees you finish the last drop of the  in the tank all the time.
Try out some New series of Disposable pods like Mon DMC tech X10- 10,000 Puffs Vape at on sale price.
what is the detail about Mon M8 8000 PUFFS Rechargeable Vapes: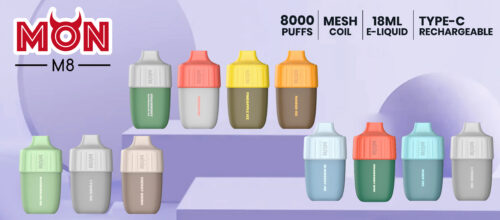 Introducing the Mon M8 8000 Puffs rechargeable vapes is from the Chinese high-quality e-cigarette supplier, the perfect solution for those who love to vape and want a long-lasting, high-quality experience. With its 18ml capacity, adjustable airflow, and mesh coil formula, this device provides dense, flavorful clouds every time.
And with its rechargeable Type-C port, you can be sure to finish the last drop  in the tank all the time. Plus, it's available in a variety of fresh fruit flavors, including Grape, Blueberry, Mango, Watermelon, and more.
At Monvaper, we believe in providing high-quality products at an economical cost, which is why we offer the Mon M8 8000 Puffs rechargeable vapes at a wholesale price. So don't miss out on this practical and efficient solution to stop using conventional cigarettes and adhere to disposable pods.
Order your Mon M8 8000 Puffs rechargeable vapes today and enjoy the best vaping experience available.
As Mon M8 8000 puffs rechargeable vapes are big in capacity and size, they contain a rechargeable battery for better performance and long-term durability. Now you can enjoy your longest-lasting disposable vape at a very reasonable cost. Disposablepod.com provides all vapes at an economical cost than the competitive market price. 
Mon  M8 Flavors:
Grape

Blueberry

Mango

Watermelon

Apple Blueberry Raz

Pina Colada

Orange Mango Guava

Cool Mint

Strawberry Raspberry Blueberry

Peach Mango Watermelon

Pineapple Passion Fruit Orange

Mango Banana Orange

Kiwi Passion Fruit Guava

Strawberry Banana Ice

Strawberry Kiwi