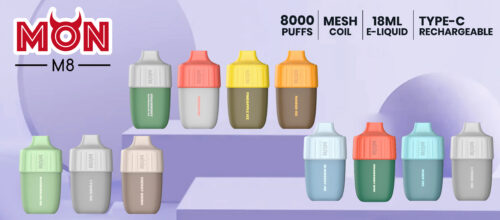 Monvaper's  8000 Puffs Vapes offer a convenient and satisfying alternative to traditional cigarettes. With a sleek and ergonomic design, these vapes provide an easy grip and a delicious aroma with every pull. The Mon M8 vapes come in a range of fruit flavors, and are equipped with a rechargeable battery for better performance and longer-lasting enjoyment.
With 18ml of e-juice and up to 8000 puffs, the Mon M8 vapes are an economical solution for smokers looking for a more sustainable alternative. The vapes feature a mesh coil, adjustable airflow, and a Type-C port for easy recharging. The special mesh coil formula ensures a dense and flavorful taste, and the Type-C port guarantees that you'll enjoy every last drop of your e-juice.
Whether you're looking to quit smoking or just looking for a new way to enjoy your favorite flavors, Monvaper's Mon M8 8000 Puffs Rechargeable Vapes offer a convenient and enjoyable solution. Try one today and experience the difference for yourself!
Experience the convenience and taste of Monvaper's Mon M8 8000 Puffs Rechargeable Vapes in flavors like Grape, Blueberry, Mango, Watermelon, Apple Blueberry Raz, and more. And for even more options, try the Mon X10 10000puffs Vape at a wholesale price.
Why Choose M8 8000 Puffs Vapes:
Mon M8 8000 Puffs Rechargeable Vapes is an excellent choice for smokers who want to switch to a more convenient and cost-effective way of vaping. Here are some reasons why you should choose Mon M8:
Long-lasting Battery: Mon M8 8000 Puffs comes with a rechargeable battery, which provides a longer lifespan than disposable vapes. You can enjoy up to 8000 puffs with just one device, saving you time and money on purchasing disposable vapes.
Variety of Flavors: Mon M8 comes in a range of delicious fruit flavors, including grape, blueberry, mango, watermelon, and many more. You can choose your favorite flavor and enjoy a satisfying vaping experience.
Adjustable Airflow: Mon M8 has an adjustable airflow system that allows you to customize your vaping experience according to your preferences. You can adjust the airflow to get a smooth and satisfying hit, which makes the vaping experience more enjoyable.
Large Tank Capacity: 8000 Puffs Rechargeable Vapes has a large tank capacity of 18ml, which means you don't have to refill it frequently. This makes it a more convenient option for on-the-go vaping.
Cost-effective: M8 8000 Puffs Vapes is a cost-effective option for vaping. As it is rechargeable, you don't have to keep buying disposable vapes, which can save you a significant amount of money in the long run.
In summary, Mon M8 8000 Puffs Rechargeable Vapes is a reliable and convenient option for smokers who want to switch to vaping. With its long-lasting battery, variety of flavors, adjustable airflow, large tank capacity, and cost-effectiveness, it's an excellent choice for a satisfying and enjoyable vaping experience.
M8 Fruit Flavors:
Grape

Blueberry

Mango

Watermelon

Apple Blueberry Raz

Pina Colada

Orange Mango Guava

Cool Mint

Strawberry Raspberry Blueberry

Peach Mango Watermelon

Pineapple Passion Fruit Orange

Mango Banana Orange

Kiwi Passion Fruit Guava

Strawberry Banana Ice

Strawberry Kiwi